Raw Talk had aired on the WWE Network after RAW ended. The show featured some bonus coverage from the Amway Arena in Orlando. Goldberg came out to the ring to cut a "promo" for fans.
 He reveals that he was approached by WWE in October, and was worried about  physical limitations, age and desire. 
 "This ain't no damn script. I'm speaking from my heart so I would appreciate if you'd listen."
He also said that things have changed recently and moved his focus to his own family. The fans got to see a part of his life they never seen before. Goldberg stated he got to show a little piece of what he used to do.   He pointed to his son and said that fans can cheer or boo, but he put in all the training for his son. His son and wife were crying at ringside. 
Goldberg welcomed his son into the ring, and stated yet again this is not a script or anything.  He talked about the feeling he got when he was able to take the Universal Championship to his son's school and nobody can take that away from him and his son.
 "This could possibly be the last time you ever see me in a ring." He mentioned the "debacle" from WrestleMania 20 and feels that he and Brock did good at this year's Mania. He ended by saying, "you never know what or who's next" and "never say never."
https://wrestlr.me/45944/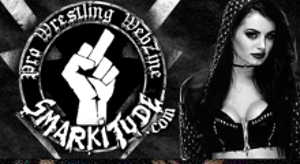 Adding comments is disabled due to age of article.