WWE Universal Champion Bill Goldberg recently appeared on J.R.'s "The Ross Report" in which he gave his thoughts on the fan not liking  Roman Reigns, comparing Brock Lesnar to Scott Steiner and if Braun Stowman is a monster.
On fans booing Roman Reigns: "It's a weird deal, man. Reading about it and hearing about it from afar, and then, being there and experiencing it, man, they've got such hatred towards this kid for no reason whatsoever. I mean, I see the reason, but people have to understand that you can't personally take it out on that guy because that guy is performing a job. He's doing what he's doing, but I think he's very entertaining. I think the kid can work his ass off."
On Brock Lesnar: "He's a 6'4″, 290 lbs. Scott Steiner. I mean, I can't tell you much more than that. That's the best analogy I can give you. Scotty, in his prime, when he was ripping guys' heads off, this is just a much bigger [Steiner]. Brock's just a bigger, badder version of that guy right there. He's more athletic and he's just a powerful dude."
On if Braun Strowman is the monster he's advertised as: "Yeah, he's a monster, man. No question about it. I think them having him do 10, 15 minute matches is why they're saying, 'Goldberg, you need to do more than two moves'. But, hey, man, the guy [has] got unbelievable talent. I would do a couple of things differently if I were him or I was management, but I have imparted my knowledge to him and, hopefully, it won't be something that is frowned upon. I think the guy's an unbelievable talent and, hell, if properly taken care of, the sky's the limit."
Click here to listen to the full interview.
https://wrestlr.me/45885/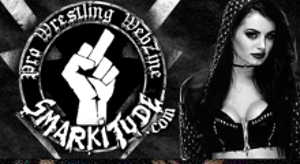 Adding comments is disabled due to age of article.